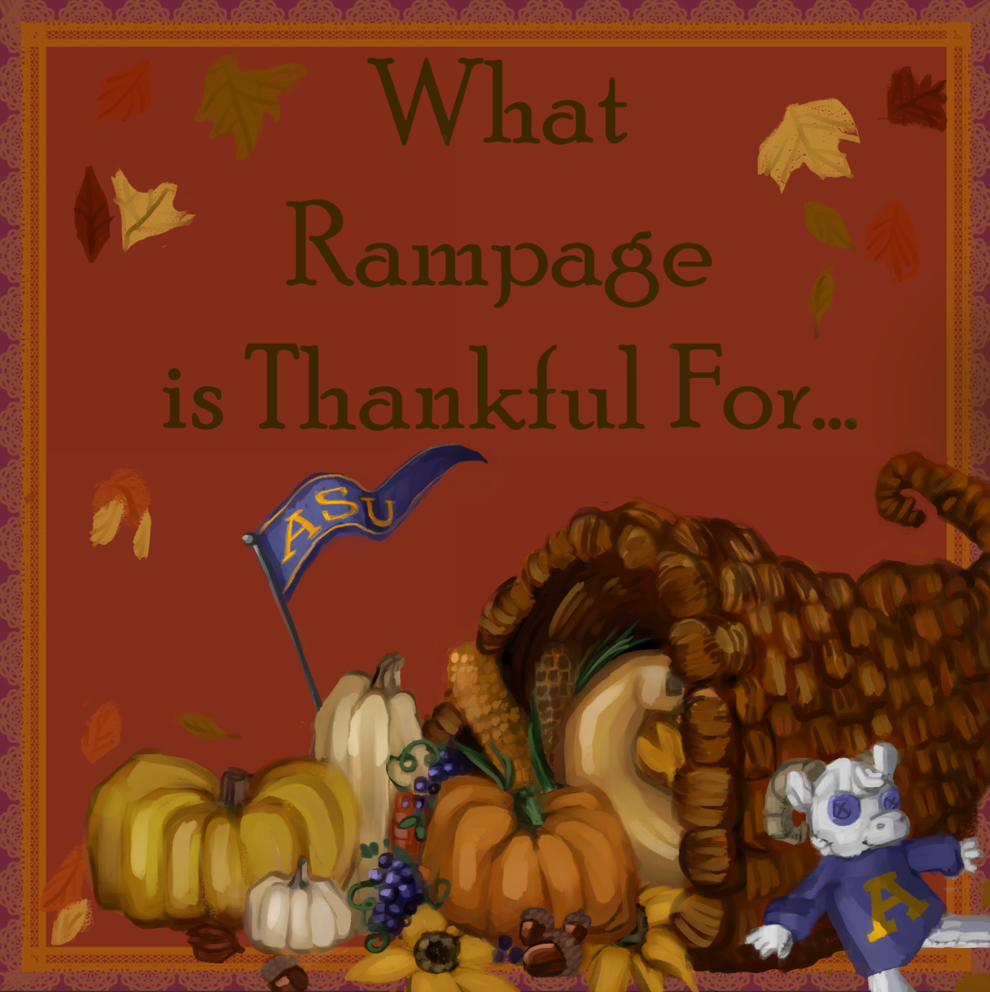 The aroma of finely cooked meats, sweets and other delectable treats coupled with the crispy crunch of golden leaves underfoot officially means Thanksgiving is upon us. It is a surreal feeling to be nearing the end of this Fall semester, as if life didn't just fly by from August through October and get crazy serious out of nowhere in November. In all seriousness, I could've sworn Rambunctious Week's inflatable obstacle course was up just last weekend and the Homecoming football game victory was yesterday's news. But alas, it wasn't, and all of the exciting memories we have each created with new friendships, new classes and new opportunities along the way tell the real story of the Ram Fam now more than ever before. This Thanksgiving, instead of reading only my reflections on all of the special things that I am grateful for, the entire Ram Page has come together to share a few big and small reasons we celebrate this season of gratitude.
"As Thanksgiving approaches, my boss has requested we all evaluate our existences and look back on this past year to recount what we are thankful for… which is fitting for the season and gave me a reason to sit down and reflect on this chaotic year."
"I'm thankful for my family, their support and their overall health (now more than ever) during this wild pandemic society. I'm grateful for my pets and their calming whimsy that reminds me to take a break from time to time to sit back and watch a few episodes of my latest anime obsession."
"I'm thankful for my amazing friends, the overall warm and inviting vibes they always have and their absolute out-of-pocket comments that make me WHEEZE."
"I'm thankful for the many opportunities I have been given within the past year. Especially the opportunity to start my first job here at The Ram Page back in January. It has been such a fun and exciting experience getting to meet so many new people, learning how to conduct interviews and do something I love (while getting paid!), it's truly amazing."
"From being inducted into a handful of international societies to being appointed into a leadership position, this year has been full of fantastic opportunities and surprises that I would have never expected and I'm so thankful for all of it."
"I'm especially grateful I got to graduate on time this past May with my B.A. in Sociology."
"Overall, 2021 has been a wild ride for a million reasons, but these are just a few reasons why I'm grateful this Thanksgiving."
- Arabella Peña, Staff Writer/Photographer
"It seems as I get older, I become more and more thankful for a million tiny things. Of course, there are the things that are not so small, like family, friends, life, love, laughter, and everything else they paint on those wood signs in that great swirly font and sell on Etsy to church moms. But there are other things, smaller things that appear to swell yearly until I seem to be unable to contain my appreciation any longer."
"Things like fall leaves and pumpkins, sweaters, scarves, beanies, warm socks and throw blankets. Like fireplaces, coffee, 16-ounce mugs, big and/or small paws (cat's or dog's), old blue or red Chevy trucks, snow, rain, homemade mix tapes, turntables and vinyl records with a needle that needs to be changed as it musters 'Come on Eileen' and 'Radio Ga Ga.' House plants (all of them), white tennis shoes, sweatshirts, bohemian rugs, homemade soup in the winter and drive-thru snow cones in the summer. Elephants (just in general) and giraffes (also just in general). Actually, pretty much all animals. Polaroids, cameras, photos, typewriters, romantic comedies, action comedies, comedy comedies, string lights, Christmas lights, garlands and sweater-weather candles."
"Essentially I'm thankful for the building blocks of life. The small, unnecessary things that are not inherently needed are often things that have the ability to turn our day around. That being said, the things that are 100% inherently necessary for me, and that I am utterly thankful for in this Thanksgiving time: my mom, my dad, my brother, my fiancé and my best friend."
- Mara Ruthenbeck, Copy Editor
"As I sit here at this desk, trying to type this paragraph, I realize I have absolutely zero clue what I should write. I do not want to say the same stereotypical (however kind) ways that I am sure most people would say but that is all that is in my head right now."
"As counterintuitive as that paragraph was, I just want to take a moment to thank everyone who has supported and hated me in my journey here at ASU. Yes, you read that correctly. No matter what side of the spectrum you are on, every single one of y'all played a hand in either making me smile or pushing me to become a better writer and a harder worker in everything I do here. All of your comments are seen by me and I appreciate them all the same, so keep them coming!"
"Lastly, I want to thank all of my loved ones (you know who you are) who have stood by my side and allowed me to be me without wanting to change me, I am sure I showed signs that made you be happy and excited as well as being scared and worried for me at different aspects of this year, but y'all did not allow that to stop you all from loving me and supporting me in what I want to do with my life, so thank you, for everything, and I hope I was able to make y'all proud this year and continue to make y'all proud next year."
- Chad Miller Jr., Lead Sports Writer/Online Editor
"This year more than ever I am thankful for community."
"Over the past two years during the ongoing COVID-19 pandemic it has become more noticeable how valuable a good community is and how much it can change your perspective of the world. I am very thankful to be able to go home and eat with my family and to come back to San Angelo and be surrounded by friends."
- Madison Wallace, Photographer/Photo Editor
"This year, I'm eternally grateful to the aspects of my life that have shaped me; my work, my studies, and my loved ones. I'm eternally grateful towards my boss and all the effort he puts into making the Ram Page office a warm and welcoming place that only has allowed me to grow and develop my skills. Higher education is something I often forget is actually a privilege, and that it's thanks to this opportunity that I was able to encounter certain challenges that have also shaped me. Finally, spending time with my loved ones has helped me realize how blessed I was these past few years to have many of them survive the pandemic with me. Ultimately, they were the ones that influenced me the most this year, since without them I would neither be at Angelo State nor The Ram Page."
- Fatima Contreras, Advertising Manager
"I could name countless individual things I am thankful for this semester. For example, I am thankful that San Angelo has the sunniest, bluest skies I have had the opportunity to reside under and the warmth of said sun always makes me smile. I am thankful for late night library visits and being able to read comics for hours. I am thankful for my little table in the painting studio where I have gotten to experience several artistic breakthroughs and "aha!" moments. I am especially thankful to have the opportunity to work for The Ram Page, alongside an incredible, kind, and passionate staff. I could list these things and they would all be so dear to me and true on their own, but they all stem from one reason. Without this reason, none of any of that other stuff would have been possible."
"I am forever grateful for my amazing family, who have supported me for my entire life to make me the person I am today. They are my rock and my inspiration. I thank god to have been blessed with being born to two wonderful and loving parents, and to have two best friends for life, my sisters, and the best cat in the world."
- Vanessa "Nessie" Trevino, Graphic Artist
"There's a lot of things to be thankful for, especially with how crazy life has been for everyone these past few years! I'm thankful for being blessed with a wonderful group of family and friends, people who not only understand the troubles of life and struggles of a college student but who also are willing to put up with me at my best and worst moments. I'm also thankful for the opportunities that have opened and closed for me, because it's these decisions that have come to define much of my life's story."
- Aaron McGuire, Staff Writer
"I am thankful for my supporting family and friends, and thankful that I am able to provide myself with the necessities needed to survive. Another thing I am thankful for is for the opportunity I have to be a photographer for The Ram Page. This opportunity has led me to follow a hobby further, such as shooting different sports, and it led me to finding a group of people that I am grateful to call friends."
- Brandon Arenas, Photographer
"One of the many things I am thankful for is my ability to critically think. My ability to always think on my toes, being able to self reflect and have patience has always been a benefit to me.  If I didn't have some of those key attributes I don't think I would be the man I am today. Everyone, including myself,  has had parts of their journey in life that either ended with pain and obstacles that they have to deal with or learn from. When you have heartful lessons or major ones, these lessons stick with you and form you."
"Now some of the lessons I have learned on my journey have been a major contribution to my life. They have shaped the personality that I have and I am thankful for them. Being able to wake up every day and see myself progress and grow is the main thing I strive for everyday. I am thankful to have that motivation."
- Tyler Hart, Staff Writer
"As I reflect on the year that has been full of ups and downs I see so many people to be thankful for. As I went into college I couldn't have been more scared and stressed but I am so thankful for the groups that have welcomed me like family. I also am so thankful for all of the opportunities that have been offered to me since I've been at Angelo State. All of these things are helping me develop into the person I am today."
- Hailey Rayburn, Sports Writer
"I am thankful for the ability to give thanks this year, for my friends and family and I am also thankful for myself. The past year was a really difficult year for me and amidst all the chaos It was hard to see it getting better. It did however and I have had a very blessed year despite everything that has tried to bring me down. It was not perfect, nothing ever is, but it was filled with perfect moments. Love, sadness, frustration and joy and it has made me a stronger person and I am looking into this coming year to continue growing. I am thankful for the people who have helped me along the way, some of whom had no idea their words or actions had any affect on me and for the people who have always been there in my lowest moments and in my highest moments. I will always be thankful for the copious amounts of coffee I have had this year (although not my healthiest relationship). Coffee has gotten me through a lot of late nights."
"Happy Turkey Day Y'all!"
- Dusty Ellis, Staff Writer/Photographer
"I am thankful for the people around me. This year my position as a staff writer and being part of different organizations has allowed me to meet and hear the unique stories of many people. I am beyond thankful for the friends this year has brought me and for the opportunity to push and grow myself in a positive way with their support."
"I count myself lucky to be part of a school that is unifying so many different people all with their own backgrounds and experiences and the opportunity to get to know so many."
- Jade Marty, Staff Writer
"I'm thankful for my life, my son, my friends, my job, my colleagues, my family and the fate that gave me all I am thankful for."
- Dr. Ellada Gamreklidze, Ram Page Adviser
I couldn't have put any of it better myself. Happy Thanksgiving from The Ram Page family!
- Mbu Maqungo, Editor-in-Chief