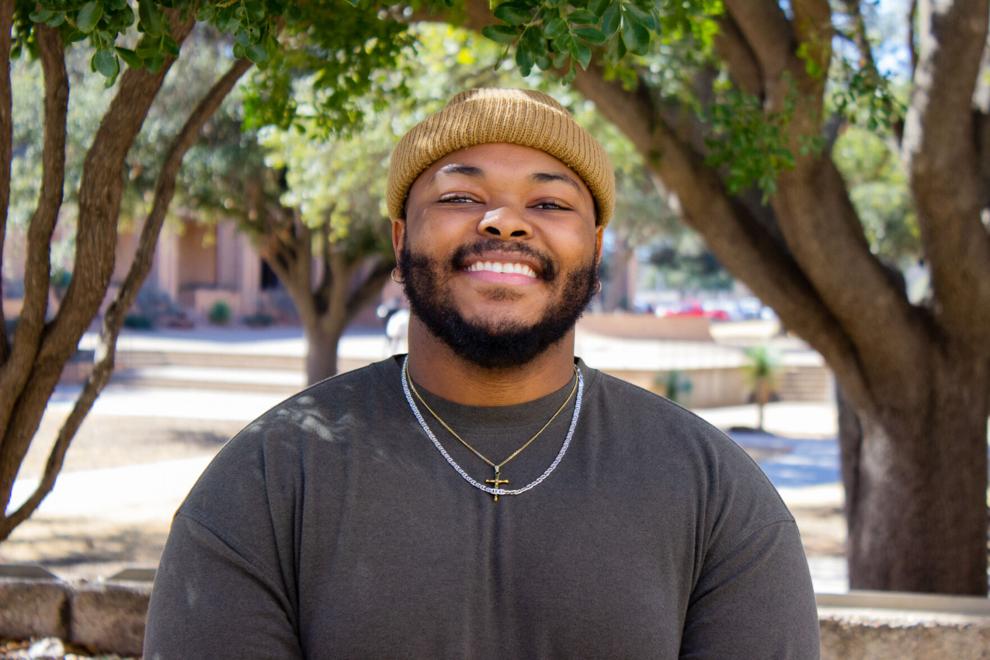 Yo, mholweni! Besides knowing a little bit more about me, perhaps you'll leave this article knowing how to talk like the characters in the "Black Panther" movies?
Attempts at hooking your attention aside, my name is Mbulelo Kanyani Maqungo, but I also go by Mbu for short. I'm a communication major and journalism minor, and this school year will be my fourth year making content for The Ram Page student newspaper. I've spent 2 ½ years as the editor-in-chief, and two years as a staff writer, a photographer and an editor, in no particular order. I'm also a community engagement manager for Rooster Teeth, a Warner Bros. Discovery Inc. subsidiary production company in Austin, Texas. When I graduate, I intend to move to Austin to continue my digital media career and seek a role at a nonprofit news organization. 
If my name or oddly specific references to pop culture films struck you as a bit different, it's because I'm a first-generation college student from a Xhosa-Swazi family. I'm also a big video game-playing, comic book-collecting nerd - but more importantly, my father is from the Eastern Cape province of South Africa, and my mother is from Manzini in the Kingdom of Eswatini. My parents immigrated to Texas in the 1990s following my dad's arduous asylum-seeking efforts due to his history of anti-apartheid organizing and the demands of my mom's nursing career, leading our family to call Corpus Christi home for several years. I was born out in Nueces County as the youngest of three boys and the only American-born citizen in my entire family. I grew up there until my family moved to where they currently reside in Fort Bend County when I was in middle school. The greater Houston area has been where I've called home since, and representing cities like Rosenberg, Richmond, and "the Mo," or Missouri City, has always been incredibly important to me, even while I'm here in San Angelo!
I've always had such a passion for fellowship and storytelling along with an admiration for my parents' accomplishments, so I knew from a young age that I wanted to make my living with a servant's heart and an ever-growing mindset developed in a creative environment that prioritized people and their needs. Leading up to and including my first few semesters at Angelo State University, I believed I was going to achieve this dream by going in a particularly STEM direction, but that ultimately turned into one of my first lessons in perseverance and how to bounce back from perceived failure. Simultaneously, I had the chance to dive into some of the most profound community-building experiences that this university's campus life offers, such as continuing my student-athlete career with the Ram Rugby team and participating in its historic back-to-back state champion and regional finalist runs.
Even after establishing an incredible support group for myself through playing rugby, though, I still felt aimless and like I was a bad fit academically, so I started my sophomore year by making my way to the third floor of the Porter Henderson Library to look for a way I could tell stories, help others and make good grades while doing it. After a few advising sessions with Ceci Hernandez and Jeff Boone - two of the most uniquely compassionate and exemplary faculty and staff at ASU - I toured the student media programs and completing an application with The Ram Page's editor-in-chief and copy editor at the time.
There have been so many blessings that those chance encounters and these organizations have given me over the years that I could mess around and accidentally make a few full-length research papers trying to retell them all, but each one stands out and fills me with immense humility and gratitude in their own ways. Whether it was in the exhilarating moments of putting the individual brilliance of our newsroom together toward a shared goal or in the somber periods of collecting heartbreaking personal testimonies of grieving students, faculty and staff, being a student journalist has shown me the impact groups and communities can have when they are accurately informed about their campus, their city and their home. I've always wanted to tell cool stories and help the people around me be the best versions of themselves, and I've never felt a stronger sense of "siya phambili" toward those goals than when I decided I wanted to be a journalist.