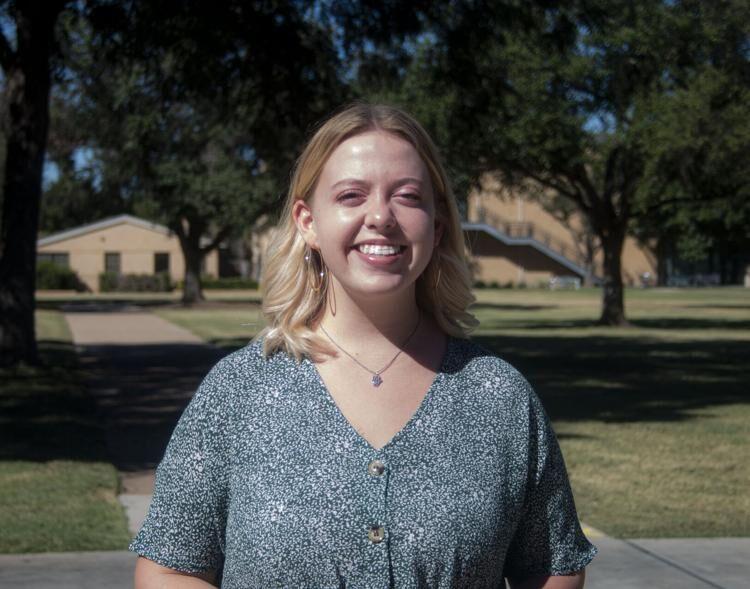 This is Jade, and welcome to my crib! Just kidding, and all my friends call me Jad. I am an English major minoring in professional education, and this is my second year on the Ram Page staff. Our newspaper caught my attention because I enjoy writing, but being on the news team has encouraged me to do much more than just that: It has given me a chance to capture stories on campus and meet people from a bunch of different organizations. 
When people say college is a completely different experience when you're involved in it, they are so right. I began my time at Angelo State University during the middle of the COVID-19 pandemic in the fall of 2020, and not a ton of in-person opportunities were being offered to maintain the health and safety of everyone. This situation made making friends or finding my place on campus difficult. After freshman year, though, everything shifted for me. I had gone through some big life changes in such a short amount of time and decided it was time to branch out of my comfort zone. I hung around the newsroom office for a while, hoping for an "in," and ran into the editor-in-chief at the time. He gave me an application which, after some other steps, resulted in me joining the Ram Page later.
Being on the staff helped me realize I enjoyed being on campus. Frequenting the grounds outside of my classes meant hearing more about all the different happenings on campus, and I decided to do something crazy and become a founding member of Alpha Phi. I decided to run for an executive board position and, to my surprise, got it. I began working with some of the best people who became my closest friends, and it was an experience I wasn't quite ready to let go of, so I ran for president. Receiving that role has been exciting, so that aspect of my life takes up most of my free time. 
I also enjoy any excuse for a road trip, however. I love going on sunset walks with friends, learning about anything new, and taking photos of people, capturing them in their best light. I am also quite fond of House of Faith, where I currently intern, and Camp Cho-Yeh, where I have done all of the camp-y things for the past few summers. Overall, I really enjoy being around people and learning about the intricacies of who they are. If there is one thing being part of the Ram Page has done for me, it is to encourage me to grow more in the things I love and enjoy being surrounded by those I love.