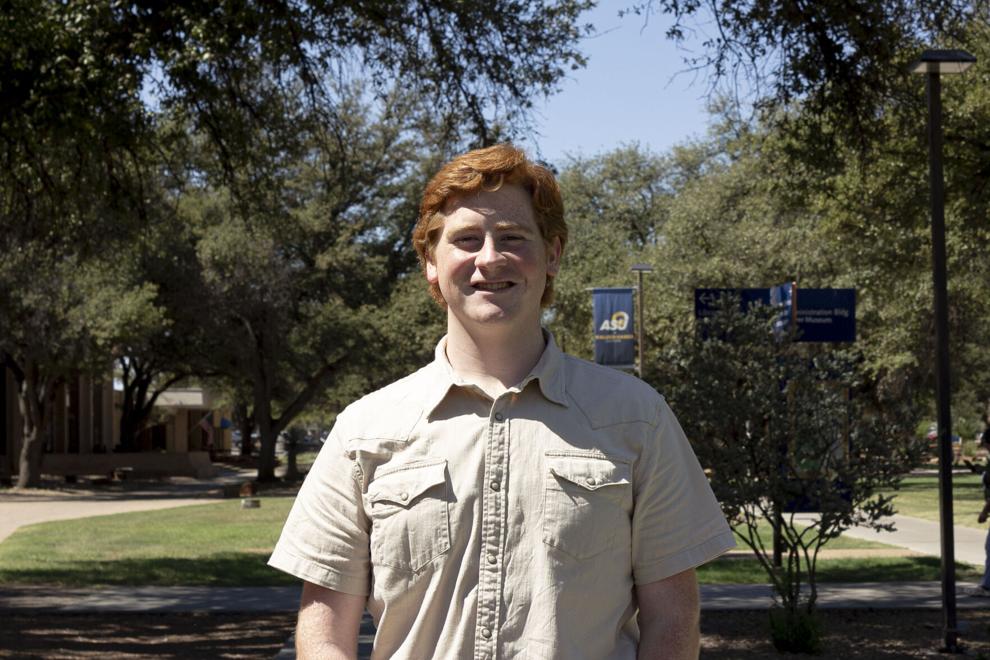 Hi, I'm Ethan Purcell, and I'm a Capricorn. I enjoy long walks on the beach and … wha-? What? Oh, that's not what we're doing? I just thought …well …okay.
No, but for real. Hey there! My name is Ethan Purcell. I'm a junior here at Angelo State, majoring in mass media and minoring in communication with a concentration in journalism.  I'm also the online editor here at The Ram Page. My job consists of posting all of the great pieces of content on this website, managing our three social media accounts, creating the various posts you see on Facebook, Instagram and Twitter and adding a punny line every now and then. I also like to affectionately think of myself as the last line of defense before something gets to where you, the reader, can see it. If neither the writer of the piece nor Aaron, our copy editor, see a mistake, I'll hopefully catch it. I also pick the photos that go with articles and place them where I think they fit best.
Much like the rest of the world, I spent those endless days of the COVID-19 lockdown watching the news. It was here that I first witnessed the disgusting amount of spin that the multiple media platforms added to stories that should just be pure, straight-up-and-down news. I knew that something had to be done to change that. News should be something objective. So much of what we receive as "news" nowadays is not that, but much the opposite. Opinion and political spin are not news.
During this time, I also watched a report on the Vice channel about the Ku Klux Klan. I watched as this journalist stood in a circle of somewhat scary-looking and armed white supremacists, asked them questions and challenged their ideology, and fearlessly so, might I add. 
Quality journalism has become super important to me, especially in the last few years. I have these two events to thank for that because they are what inspired me to become a journalist and begin bringing people the truth. 
The first couple of years of college were a little rough for me. I missed being around my family and had difficulty finding my groove. (Little did I know there was a student organization that suited my interests). These two things caused my grades to slip, and I was placed on academic probation. However, after some serious hard work, concentration and a classic switch-up in my minor, I found myself again.
I got involved with The Ram Page toward the end of my sophomore year and came on full-time as a staff writer during the fall of 2022. Since then, I've also gotten really good with a camera, becoming a regular Peter Parker, if I do say so myself. After writing a few stories, I was offered the online editor position, and I jumped at the opportunity. 
One of the coolest things about my job is definitely the cubicle. As silly as it sounds, I just really enjoy having my own little nook. I also really enjoy hanging out every day with the new friends I've made over the past year. We have a great time here at The Ram Page, and I encourage everyone to check us out!
I can't stress enough to both current and incoming college students the importance of finding your "tribe."  Between endless exams, assignments and classes, take the time to find that student organization with people that share your interests. Chances are, you'll even be in the same classes. And, if you can, get paid for it!