Over 100 San Angeleans opposed to a recent Texas law prohibiting most abortions in the state visited a Facebook event page, with some planning to participate in a demonstration in the streets next month, joining with likeminded protestors across the country.
"On Oct. 2, 2021, we're going to send the Supreme Court and lawmakers across the country a clear, unified message. The attack on our reproductive rights will not be tolerated," national organizers for the Women's March said on the group's official website.
"Oct. 2nd is the day the Women's March has designated, and we will follow suit," said Anna Martine, an ASU alumna and host of the Facebook event. "We want all people with reproductive systems and all people who support bodily autonomy to know that they are not alone in opposing this issue in San Angelo. It's not just about public outcry, it's about educating people about the long history of attacks on women's right to abortions. Even just researching things like the Hyde (Amendment) and knowing that people in lower income brackets have never really had access to abortions because no federal funding like Medicade or Medicare can be used for it."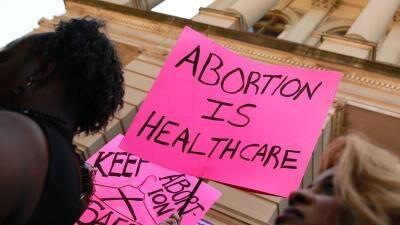 According to reports, this new law bans abortions at six weeks from the patient's last menstrual period and deputizes private citizen with the ability to sue abortion patients, medical staff, ride-hailing service people and almost anyone who performs or aids in the procedure. The law includes several provisions that detractors say tilt the scale towards plaintiffs, including protecting plaintiffs– the exclusive enforcers of this law– who file multiple cases, incentivizing civilians to sue with a $10,000 cash reward if successful and removing defendants' ability to recoup their legal fees.
Excerpts from the law also state that any person or group of people can sue defendants for the same abortion more than once within a four year timeframe as long as they are not a federal agent or employee.
David Coale, a Texas appellate lawyer, said the law's reach is an expansion with far-reaching legal implications.
"This challenges the very notion of what a court is for and emboldens civilians to enforce law, a duty traditionally left to the government," Coale said.
"No freedom is more precious than life itself, " said Governor Gov. Greg Abbott, who signed this law in May. "Starting (Sept. 1), every unborn child with a heartbeat will be protected from the ravages of abortion. Texas will always defend the right to life."
Martine, who has lived in San Angelo since 2006, graduated from ASU in 2009 and 2019 with a bachelor's degree in interdisciplinary child development & learning and a master's degree in curriculum & instruction, respectively. She said that this new law "affected" her deeply and prompted her to not only think of its consequences on her, but for all the women and individuals capable of giving birth in her life.
"San Angelo is kind of isolated," Martine said. "We're not that close to Austin, and we're not that close to San Antonio for people to make a day trip for medical appointments, so for women especially here that don't even have the means to travel and have their voices heard in the bigger cities' demonstrations, I thought it would be good to have a local march for our community to participate in."
Martine said she believes that the lack of group organization amongst pro-choice community members in ASU and San Angelo has caused more evangelical voices from other organizations to dominate the conversation.
"We are more isolated," Martine said. "Even when I was a student, I didn't have as much of a way to get my voice heard compared to students in religious organizations who thought differently. I would definitely encourage the university to do something, I know that they like to appease people with religious additions around campus because those kinds of things tend to bring donors, but I would encourage them to open that support more broadly and to have more spaces for students who's intersectionality puts them in a lot of different communities." 
When asked for a response to those who believe children of terminated pregnancies are the real voiceless ones in this national debate, Martine described why she believes it's important to recognize the legal dominion of people who can get pregnant.
"I believe in the bodily sovereignty of anyone who has a uterus and their insight into what is best for them," Martine said in a statement. "It is their choice when and where and if they want to have a child. We have to ask ourselves, is a fetus that is potentially non-viable more valuable than the health, wellbeing and material conditions of the mother? I don't think we can say you have to bring this child into this world because its life matters when we can't guarantee proper healthcare, a stable household or even food to them. It's inhumane. I believe in trusting that individual with knowing their own body and mind."
The Women's March in San Angelo is tentatively scheduled to start outside the San Angelo courthouse Saturday Oct. 2 at 8 a.m. to 12 p.m. 
"People who wish to stand with us and show our local and state governments that this ban is unacceptable can follow us on the Facebook page, 'Women's March San Angelo' or can look for flyers in the coming week," Martine said.